Solumaths is a free international mathematics web application that offers : calculators, a graphing calculator, exercises and online games, and course reminders. This mathematics site is particularly suitable for high school students, college students and teachers. This online software has established itself over the years as an international reference web application in the field of mathematics, as evidenced by its growing user base in many countries.
Several types of mathematical applications are available:
Calculator : software symbolic and numerical calculation online.
This powerful online algebra calculator allows numerical computation and computer algebra.
This online maths software allows fraction calculation with fraction calculator, literal calculus, numerical computation, calculation on radicals, calculation of complex numbers with its complex numbers calculator.
It has powerful features allowing it to solve an equation, equation solver allows including solve an equation, solve a quadratic equation by giving the solution in exact form.
The solver is also able to solve an inequality, whether it is a first-degree inequality or inequality of the second degree, again the solution is calculated with its exact form.
Calculator is able to calculate derivatives using derivative calculator and calculate an antiderivative with antiderivative calculator. For some functions, it is possible to obtain the different step of the calculations. This step by step method facilitates understanding.
Calculator allows solving math exercises and solving math problems online. To make the best use of the calculator, you can consult its presentation and instructions .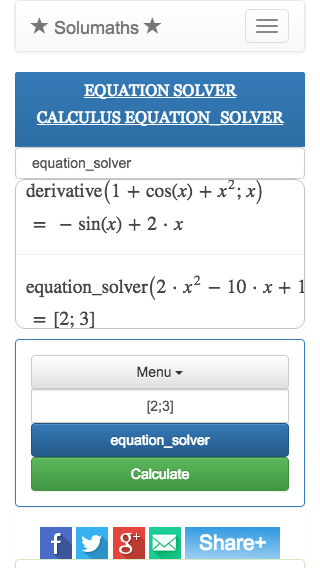 Graphing calculator : the online software for drawing curves.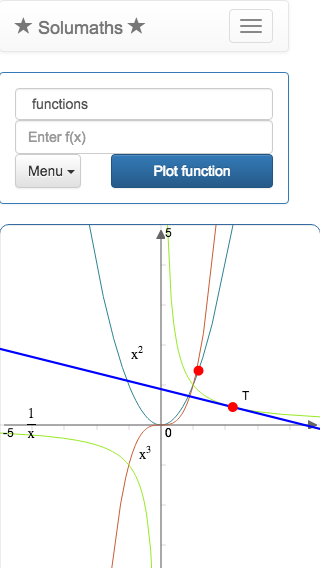 Game library: Free math games
The game library offers different calculation games based on arithmetic operations , these online mathematics games allow to train to mental calculation and help the development of reflection and strategy. As for the little math quiz , all the games are in the form of multiple choice questionnaires, the only exception is countdown game
The site offers the best math games around numbers, these educational free math games allow you to practice elementary arithmetic operations such as addition, subtraction, multiplication, and Euclidean division. These easy calculation games allow you to practice counting and calculating, these number games allow you to practice fast calculation and mental calculation.
The site offers a large selection of online calculation games : number games, fast calculation games, arithmetic games, mental arithmetic games, operations games, math quizzes.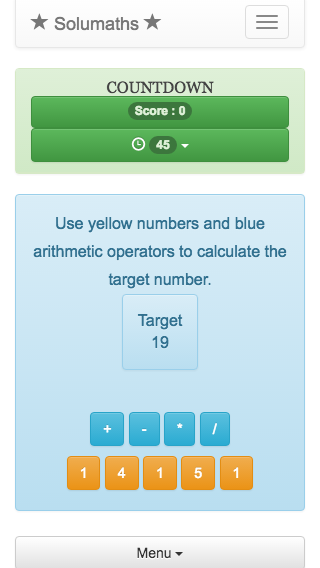 Exerciser: online mathematics exercise generator.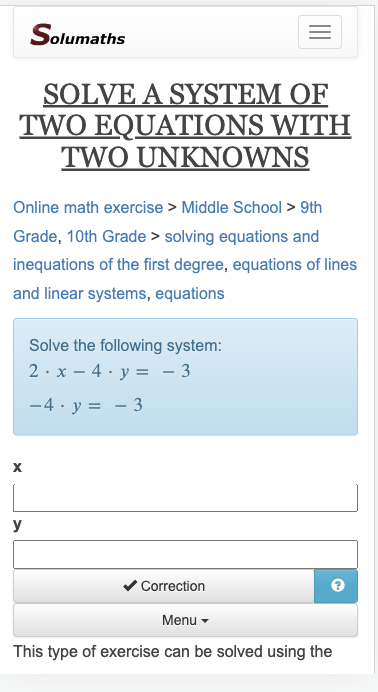 The online mathematics exercise generator allows you to approach, in the form of interactive exercises and corrected problems, the mathematics program for middle and high school. Each exercise is accompanied by a reminder of the course, and a correction that can be detailed. The corrected online mathematics exercises are organized by class and by theme.
Thanks to the many types of exercises available, the exerciser is an excellent online math tutoring solution. It is an excellent tool for online mathematics revision, it allows you to prepare for competitions and exams. Its different help modes (step-by-step calculations, detailed corrections) make it a complete and independent learning solution.
The site has a Maths Exercise Generator to create sets of exercises and their corrections. With this generator, teachers and trainers will find resources to help them prepare printable homework topics for their students.
A search bar that calculates
The search bar, accessible from every page on the site, enables you to carry out searches, as well as algebraic and numerical calculations. To save time and calculate quickly, you can use the search bar to perform certain calculations.
Online math software regularly updated
Solumaths is actively developed, new features are added regularly. Do not hesitate to come back often to discover them.
Share Solumaths on social networks
It is possible to share site pages on the main social networks, thanks to use the share bar which appears on the corresponding pages. Just touch or click on the icon representing the social network from which you want to share the page.
The whole team wishes you good calculations, good graphics, good course reminders, good exercises and good online maths games ;-), on solumaths.