Multiplication game
This online math game allows to revise the multiplications. It is an excellent exercise in mental arithmetic training. It allows to revise all the multiplication tables from 1 to 10 online .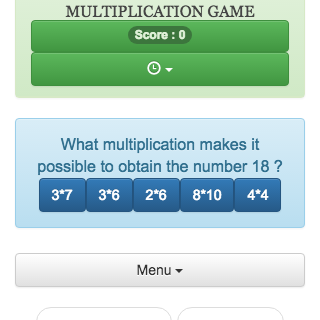 Multiplication game rules
The goal of multiplication game is simple : it consists in choosing from a list of multiplications the multiplication which makes it possible to obtain a given result.
Multiplication game solution
If you are unable to find the correct answer to the multiplication game, or if your proposal is incorrect, the solution will be given to you.
To help you in this game, the site offers times tables online
---
---